By Gerard Perseghin
CATHOLIC STANDARD

---
CS PHOTO BY MICHAEL HOYT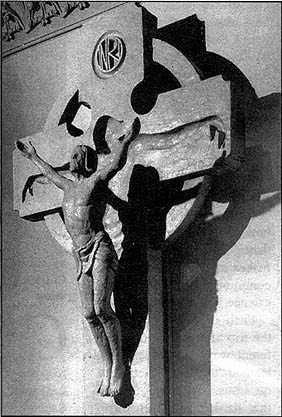 The crucifix above the altar at St. Patrick's Church, Washington, DC, sculpted by artist Leo Irrera, depicts Christ's crucifixion and resurrection.
When you look at the crucifix at St. Patricks's Church downtown, Leo Irrera wants you to know that "it was created by the Holy Spirit." Irrera, the artist takes credit only as the producer in this work.
Irrera found it came into being far too fast for him to take credit for it. The unique crucifix does not show or suggest Christ in only one mode. First you see him, face up, arms up, moving off the cross, diagonally, heavenward.
Then you notice something else behind that figure which is about 75% life size. There is an impression in the cross of the Christ figure, as if, in the midst of His physical pain and mental agony, Christ's body left an imprint on the cross. In His Resurrection, Christ conquered sin and death; thus His body seems to leap off the cross in the sculpture above St. Patrick's altar.
As the crucifix becomes the focal point of the end of the Lenten season, Irrera's unique crucifix combines both the sorrowful and glorious aspects of Christ's sacrifice -- the crucifixion on Good Friday and the resurrection on Easter Sunday.
A sculptor of plaques for the Naval Memorial just a few blocks from the parish, Irrera, the artist in residence at St. Patrick's, said he was distinctly aware of the ease with which the crucifix came into being. "I never had a piece go so easily," Irrera marveled recently in his basement studio at the parish. The 70-year-old artist lives with his family in Cleveland Park.
When he started modeling the corpus in clay, Irrera knew he didn't want to do anything starkly modern for St. Patrick's, which is a traditional gothic-style structure with Celtic roots. The Celtic circle had to be part of it, Irrera knew. The parish finished a $1.7 million renovation four years ago, and the new crucifix gave the sanctuary not only the fundamental symbol of Christianity but also a sculpted figure in motion.